Early Development Network
Molly Cunningham, Lori Harring, Jodie McConnaughey, and Rose Petersen, Service Coordinators
Check out the Early Development Network Website
---
What is Early Development Network Services Coordination?
Services Coordination means a central contact person, known as the services coordinator, is assigned to each family.
Services Coordination helps families of children with special needs below age three:
find services to meet developmental, educational, financial, health care, child care, respite care, and other needs
link with needed services
work with multiple providers to make sure services are provided as needed
become coordinators of services for their own children in the future
---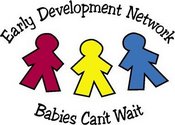 Why is Services Coordination Needed?
Nebraska families of children with special needs have found it difficult to locate needed services for infants and toddlers with disabilities and then to coordinate the services with so many providers involved.
Nebraska families asked the State Legislature for assistance by allowing services coordinators to set up teams of the family service providers to work together.
Services coordination:
allows families easy access to community services
makes current services stronger
avoids duplication of services
develops resources when needed
makes it clear to families what they can expect from state and community agencies
---
Who is Eligible for Services Coordination?
Eligible families are those with an infant or toddler below age three who has a disability or developmental delay and qualifies for special education through the public schools.
Year round services coordination is provided. There is no cost to families.
---
How Can Families Apply?
To request Early Development services for your child or to refer a child in your area, call the local number below. With prior parental permission, referrals may be made by anyone who suspects a developmental delay in an infant or toddler.
Special Education Director
Ellen Stokebrand
P.O. Box 310, 919 16th Street
Auburn, NE 68305
402-274-4354 (Ext. 109)

Early Development Network...Babies Can't Wait...is supported through the collaborative efforts of the Nebraska Department of Education and the Nebraska Health and Human Services System.
---
The Human Brain is the Ultimate "Use–It–Or–Lose–It" Machine...
Babies are born with over 100 billion brain cells, all they will ever have!
A baby's brain is a classic "work in progress"; brain cells at birth are not formed into any specific structure — yet. Most of the connections are formed after birth as a result of interaction with the baby's family and environment. Every moment spent with a child influences the development of their brain.
Most human brain connections for vision are in place by the age of 8 months.
The learning of language is one of the most important activities of the developing infant brain — one that is totally dependent upon sensory input. Even before a baby is born, it can recognize it's native language and it's mother's voice. Immediately after birth, the developing brain begins soaking up sounds and words as a dry sponge soaks up water.
---
Facts About Infant Hearing Screening...
Hearing loss is the most common congenital disorder in newborns.
The average age at which children are diagnosed with a hearing loss is 2.5 years.
Recent research suggests that children born with a hearing loss who are identified and given appropriate intervention before 6 months of age have significantly better language skills than those children identified after 6 months of age.
Infants identified with hearing loss can begin immediate intervention, including amplification, as early as 4 weeks of age. Early intervention will increase an infant's chances for language, cognitive and social development to be similar to that of hearing infants.
IDENTIFICATION OF A HEARING LOSS BY 6 MONTHS OF AGE, FOLLOWED BY APPROPRIATE INTERVENTION, IS THE MOST EFFECTIVE STRATEGY FOR THE DEVELOPMENT OF LANGUAGE IN DEAF AND HARD OF HEARING INFANTS.
Educational Service Unit 4 and the Region 4 Early Development Network Planning Team are co–sponsoring Infant Hearing Screenings in Otoe, Nemaha, Johnson, Pawnee and Richardson counties.
---
Who does an Infant Hearing Screening and how is it done?
The hearing screening is completed by the ESU 4 Audiologist, using OAE, otoacoustic emissions testing. Otoacoustic emissions are faint sounds produced by most normal inner ears. The sound cannot be heard by people, but can be detected by very sensitive microphones that are placed in the ear canal.
The microphone records the otoacoustic emissions that a normal ear produces in response to an incoming sound. Emissions are commonly not detected in an infant or person who cannot hear.
---
What is the test like?
The testing is painless and can be done while a baby is sleeping. Small microphones are placed in the baby's ears and a sound is sent through the ear. The test will measure the ear's response to those sounds. The complete experience will last less than five minutes.
How much will it cost?
The Infant Hearing Screenings are provided at no cost to the parents. All we need is a healthy ear!
---
Infant Hearing Screening Sites
Community Medical Center, Inc. Falls City, Nebraska, 402-245-2428
Johnson County Hospital Tecumseh, Nebraska, 402-335-3361
Pawnee County Hospital Pawnee City, Nebraska, 402-852-2311
St. Mary's Hospital Nebraska City, Nebraska, 402-873-3321
Community Memorial Hospital Syracuse, Nebraska, 402-269-2011
Nemaha County Hospital Auburn, Nebraska, 402-274-4366
Please contact your doctor or the hospital in your area for more information, dates and times.
---
All children develop at different rates. Listed below are some guides to see how your child is developing.
0-1 YEARS

Holds head up by four months
Picks up objects by six months
Responds to sounds by six months
Makes some of the sounds made by others by nine months
Uses furniture to pull self to standing position by 12 months

1-2 YEARS

Holds out arms and legs while being dressed by 18 months
Points to objects he/she wants by 18 months
Walks without help by 18 months
Says two words by 18 months
Shows one body part (eyes, nose) when asked by two years

2-3 YEARS

Speaks in 2-3 word sentences by three years
Walks up and down stairs without help by three years
Plays with an adult by three years
Undresses self by three years
Asks some questions by three years
Speaks so non-family members understand most words by three years
---
For your questions or concerns contact your doctor, your local school district or call:
NEBRASKA CHILDFIND: 1-888-806-6287