ESU4 Hosts Successful Middle School Quiz Bowl Competition at Peru State College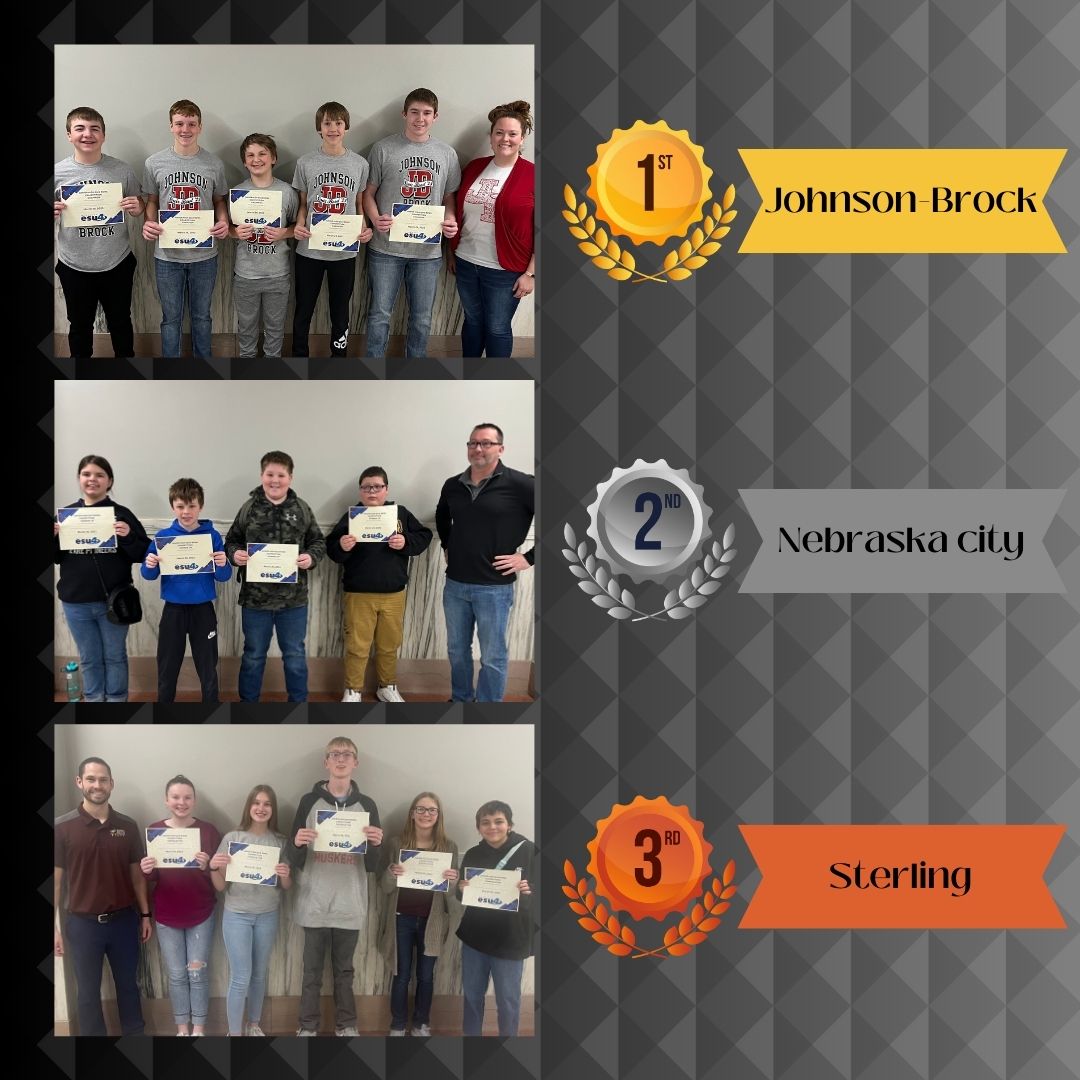 ---
Peru, Nebraska - ESU 4 hosted a thrilling quiz bowl competition for middle school students at Peru State College on Friday, March 24, 2023. The event brought together schools from across the region to showcase their knowledge and skills in various subjects, including science, history, literature, math and current events.
The competition was intense and exciting, with students demonstrating their expertise in a range of academic areas. The teams battled it out in a series of rounds in the morning, which ended with the two Syracuse-Dunbar-Avoca teams in the lead with points, followed by Johnson-Brock 2, Falls City 1 and JCC 1 to fill out the top of the bracket, followed by a tournament in the afternoon. The tournament ended with Johnson-Brock 1 winning a tough fought round against Nebraska City 2. The winner of the consolation bracket was Sterling 2.
The following schools participated in the event: Auburn Public (2 teams), Falls City Public (4 teams), HTRS (2 teams), Johnson-Brock (2 teams), Johnson County Central (4 teams), Lewiston Consolidated (2 teams), Nebraska City Public (2 teams), Nebraska City Lourdes, Sterling Public (2 teams), and Syracuse-Dunbar- Avoca (2 teams).
The ESU 4 Quiz Bowl competition was a huge success, with all participating schools showing exceptional academic talent and enthusiasm. The event showcased the incredible academic potential of the region's middle school students, and it was a fantastic opportunity for them to come together and showcase their skills in a friendly and supportive environment.
"We were thrilled to see so many bright and talented middle school students competing at the ESU4 Quiz Bowl competition," said Lori Broady, Teaching and Learning Specialist at ESU4. "It's always great to see young people getting excited about learning and challenging themselves academically. We are grateful for the partnership with Peru State College to host this event and the volunteers who helped as readers, timers/scorers."
ESU 4 looks forward to hosting more events like this in the future, and we are excited to see the continued academic success of the region's middle school students.