Open House at ESU 4: Renovation and Addition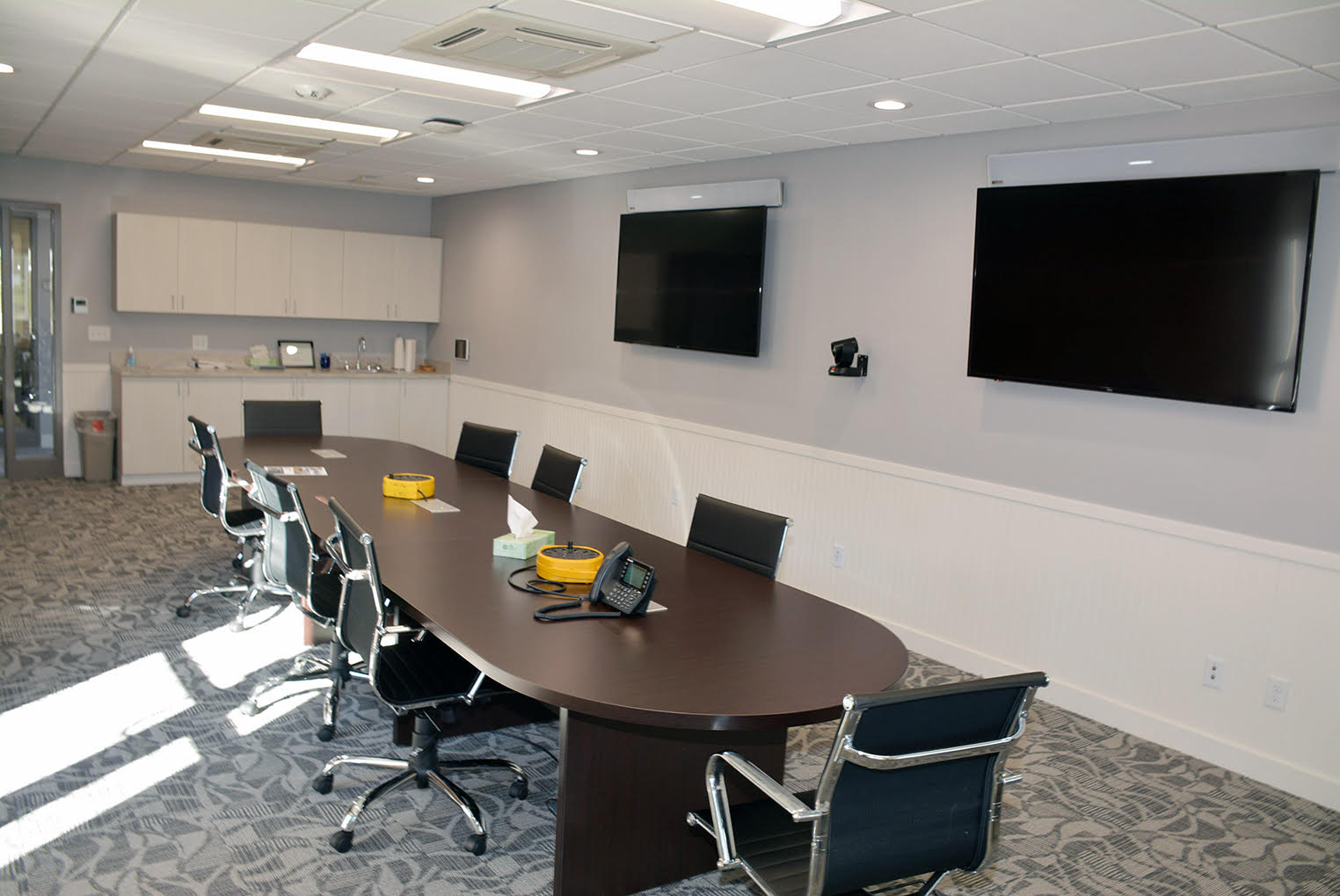 ---
Nov. 12 Open House at ESU 4 Renovation and Addition at 2301 Dahlke Avenue
By David Swanson
Nemaha County Herald
Printed: Nov. 11, 2021
Staff of Educational Service Unit (ESU) 4 is inviting everyone to visit its new location in south Auburn this week.
An open house takes place Friday, Nov. 12 from 3:30 to 5:30 p.m. at 2301 Dahlke Avenue. Previously ESU 4 was located at 919 16th Street. The move became official Wednesday, Aug. 4, stated Gregg Robke, administrator.
"We've been adjusting and we really like it here. We're still moving from our former location. At first, the inside and outside were done and we had air conditioning. We were without furniture for a while and our telephones were not working. We had contractors trying to finish up. We used folding tables and chairs for awhile but we made it work. Our phone system took about a month to become operable," he continued. In July 2020, ESU 4 acquired the former Carson National Bank building to serve as its main office. Dennis J. Lyon was architect and Genesis Contracting Group was general contractor. There were a number of subcontractors.
The board room has been named the Carson Board Room. Robke indicated the former bank's exterior brick was preserved as much as possible. The former drive through was remodeled into three offices, the administrator said.
"We have additional space. Everyone has their own office — which they did not have at the former location. We are accessible on one level instead of multiple levels. It is efficient and well lighted. We have improved parking and a better general atmosphere," Robke noted. There are 17 individuals who have offices on site, each with a sign designating their name.
"We hope to let everyone know who we are," he related. Many of those are in and out of the office, going to schools in the service area and working with families, the administrator noted. Those include nurses, audiologist, early development network and technology.
A new addition was built south of the main office including two conference rooms. They are named in honor of Church Howe and Charles Nixon, founding fathers of Auburn. The former office building was once the residence of Howe's family. The conference facility has been the site of the Entrepreneurial Community Activation Process community discussions.
Anyone wanting to reserve a conference room needs to contact ESU 4 at 402-274-4354. There is a form requiring completion before a request is approved. There is a nominal fee if you are not associated with a school district or a unit staff member, Robke stated.
ESU 4 provides supplemental educational services to 11 public and three parochial school districts in Nemaha, Johnson, Otoe, Pawnee and Richardson counties. Combined, the districts have around 7,000 students and 700 teachers. It is among 17 ESUs across the state. In addition to those based at the south Auburn location, 13 work out of the Learning Center at 1109 R St. across from Auburn Middle and Senior High School. There are 40 employees at the Nebraska Center for the Education of Children who are Blind or Visually Impaired in Nebraska City.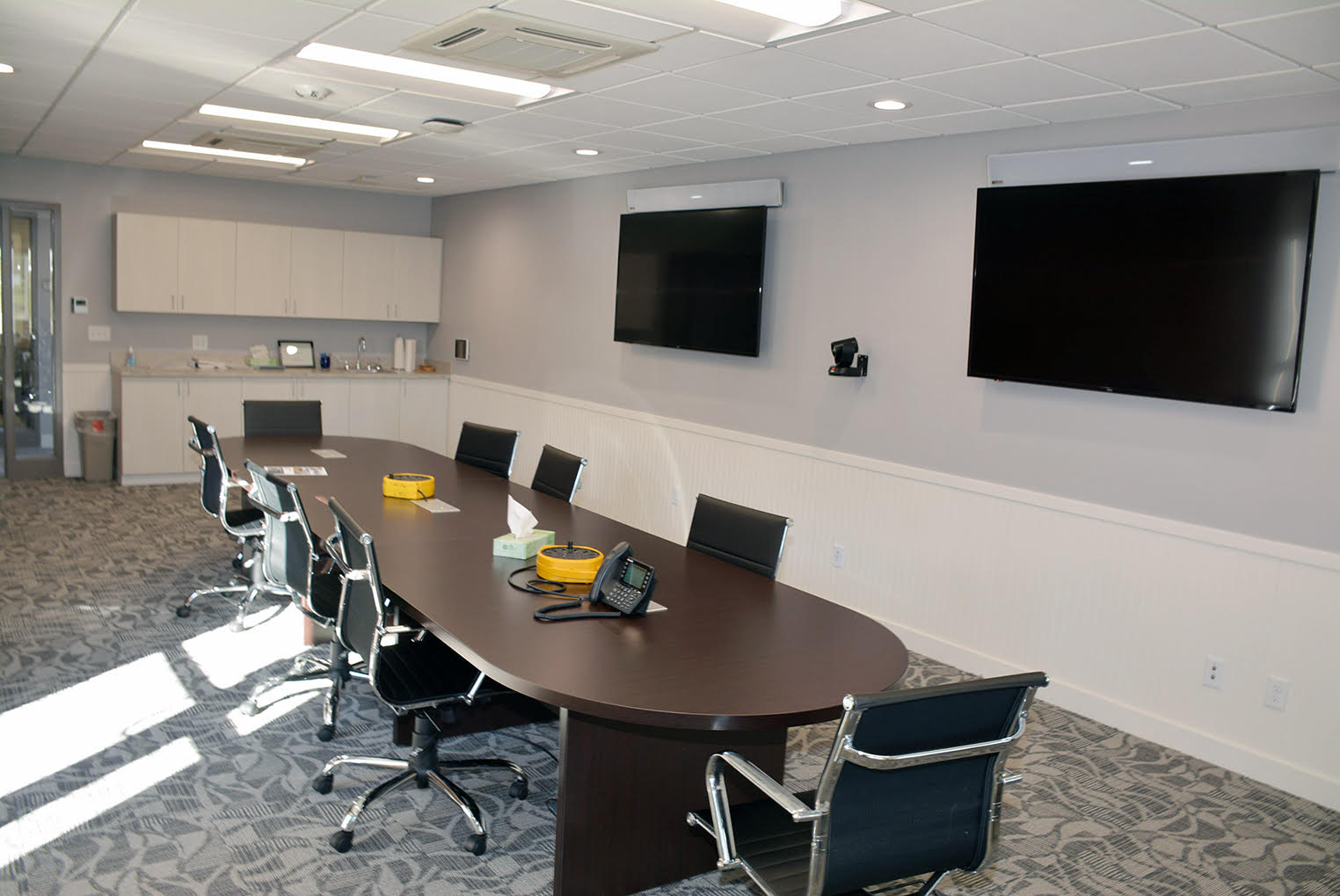 THE CARSON Board room at the new Educational Service Unit 4 main office recognizes the building as the former location of Carson National Bank.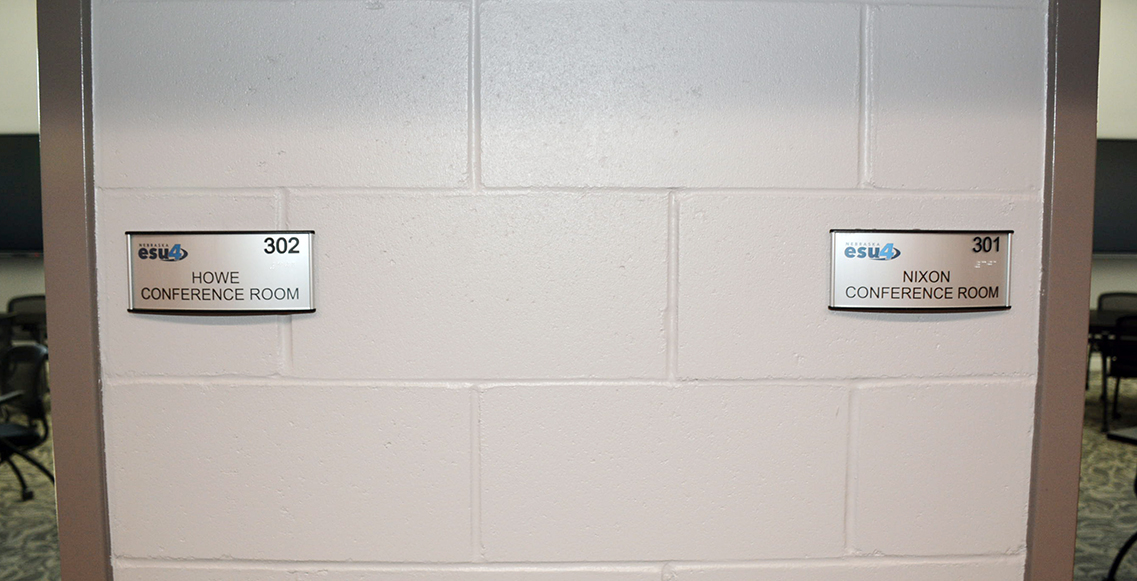 NAMEPLATES AT the entrance to the conference rooms at Educational Service Unit 4 headquarters recognize Church Howe and Charles Nixon.